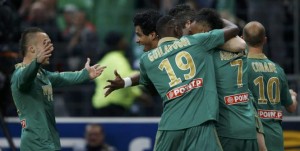 Saint-Etienne won the 19th final of the League Cup by one goal to nil against Rennes at the Stade de France!
The club had not won a trophy since the title of champion of France in 1981 – Rennes has not won anything since 1971 and its last victory in Coupe de France at the Stade de France –
The winning goal was scored by the Brazilian Brandao on a pass from the star striker of the club, helpless tonight P Aubameyang
All fans of the Greens were waiting for this victory especially as the club was released this week in the Coupe de France foolishly.
P Aubameyang wanted to leave the club with a trophy. He did it! Remains to know his future destination.
Meanwhile, he is having fun with all his friends …
To be continued…