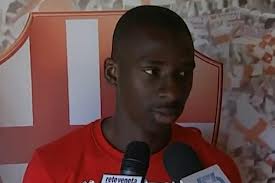 Ousmane Dramé who plays in Lega Pro Lecce (Italian D3) got enrolled in a quite mysterious matter.
The Franco-Senegalese striker aged 21 would have required the services of a prostitute on the streets of Lecce. He proposed to the Nigerian prostitute his iPhone for a sexual performance due to lack of money in his pocket. After satisfying his libido, Ousmane Dramé fled on a bicycle with his iPhone.
Passing by the training center of Guingamp, the player was caught by a transsexual who had attended the scene and a motorist.
A penalty should be taken against the player, announced his club's website. Dramé will be suspended and his contract will be terminated.
The player was followed by Marseille in the last few months.