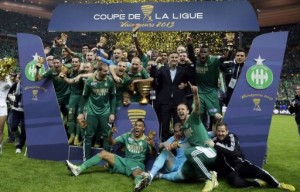 The AS Saint-Etienne put an end to the 32 years expectation on Saturday with a new trophy in its window: the League Cup. Beating Rennes in the final (1-0), the Greens have pocketed in the Trophy, the sum of 1 700 000 Euros.
Aubameyang, Brandao and Zuma considered as the heroes of the final will receive as a bonus for the win 40,000 Euros each. But Roland Romeyer, president of the ASSE, has decided to grant the same premium for the wounded that were part of the campaign before the final.
So Max-Alain Gradel and Jeremy Clement would get the win bonus, as noted foot01.com.
Winner of the League Cup, Saint-Etienne is guaranteed to play at least the Europa League next season.
The Greens are still in the race for qualification for the UEFA Champions League.