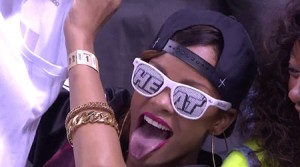 The American music stars show their color.
After Lil Wayne has said that he is a Lakers fan, it's Rihanna who displays the colors of the Miami Heat.
She exhibited the jersey of LeBron James to attend the victory of Heat, NBA champion during his match1 of the first round of the playoffs, against Milwaukee, 110-87.