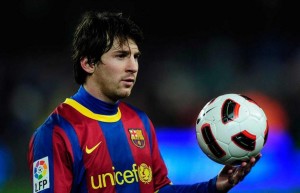 Injured at his right thigh in the first leg against PSG in the Champions League, we thought that Lionel Messi would play well against Bayern Tuesday in the semi-final of the Champions League.
A club statement had yesterday said: "Messi is normally trained on Sunday morning and although he does not yet have the medical lisence, he joined the group of 21 called for the semifinals. The three unique unavailable are Mascherano and Puyol injured, and Adriano suspended. "
But now the question is more important as Barcelona hopes to see its Argentine genius well in fit on the ground. By himself, he can tip a game, but he still suffers from his thigh …
Jordi Roura, the assistant coach of the Catalan club said: "I cannot give a definitive answer. In recent days, the injury has evolved, we are hopeful, but we will make our decision after the last training session. "
Barcelona has been overwhelming on Sunday against Levante in La Liga (1-0).