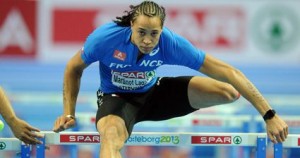 Several French athletes chose the U.S. for their summer break. Thirty of them have settled in Los Angles in a three-week rally initiated by the French Federation. They lined up this weekend on the Mount SAC Relays.
Thus on the 110 m hurdles, Pascal Martinot-Lagarde ranks second (13" 28) behind Ryan Wilon (13" 23). At the 200m Stella Akakpo illustrated herself with a time of 23" 54, however insufficient to beat the Nigerian Blessing Okagbare.
Relias teams were also on the track. The sprinters took the third place in the 4 × 100 m in 43" 76. The 4 × 400 m was ranked second in 3'33" 25. On the same distance, fifth place of their male counterparts in 3'06" 92.
Also in the United States, but in Bâton-Rouge (Louisiana) Mickael Hanany achieved a jump of 2.22 m in height. At Baltimore (Maryland), Lenora Guion Firmin covered lap of the track in 53" 25.
Christophe Lemaitre will be on track on April 27 at the Penn Relays in Philadelphia.