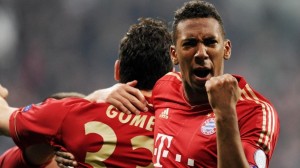 Bayern Munich inflicted a correction to Barça.
The Bavarians were imperative 4-0 at the Allianz Arena in the semi-finals of the Champions League. The German club takes therefore a serious option on the final. Barca which fell from the tower, hopes to turn the tide in the second leg, but it will struggle in front of a completely new situation for this generation of players.
The African players have not particularly had the opportunity to show up during the meeting between the two greatest clubs in Europe.
At the German side, only Jerome Boateng was for the defense. The Ghanaian origin was chosen to form the hinge with the Brazilian, Dante. The brother of Kevin-Prince Boateng has perfectly insured is his job as Bayern did not concede a goal. In front of the Catalan offensive armada which usually breaks down the defenses, Jerome Boateng has not cracked. The Munich defender was able to contain the onslaught of the Blaugrana led by Messi.
At the Spanish side, Alexandre Song and Eric Abidal were on the match sheet. Both players have not made their way on the lawn at the Allianz Arena.
Since his arrival in Barcelona, Alexandre Song plays the role of a liner. Tenured only six times in the league, he was more often in the central defense when it came to replace Puyol or Piqué at the midfield where the Cameroonian has excelled during the last four seasons in Arsenal.