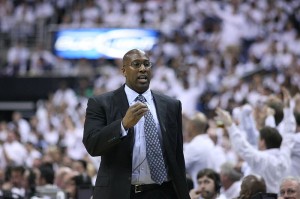 Ejected in California from the bench of Los Angeles Lakers, just after five games, Mike Brown go back in Ohio.
According to the American press, he will be once more the heat coach of the Cleveland's Cavaliers. Aged of 43 years, Mike Brown began his NBA coaching career with the franchise of his state from 2005 to 2010.
During this period, he takes the Cavs of LeBron James for the first time in their history to the NBA Finals, lost against San Antonio (2007).
Brown must sign a contract of $ 20 million over five years. He succeeded to Byron Scott fired just after the end of the regular season.
The native of Columbus counts 314 wins and 167 lost since the beginning of his coaching career.