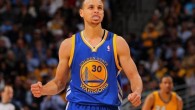 After a short service in the first game of the series in the first round of the playoffs that opposes Denver to Golden State, Stephen Curry has performed firework at the Pepsi Center in the victory of his franchise, 117-131.
In the wake of the rookie positioned as winger, Harrison Barnes (24 pts in, 9/14 [shots 2 pts] 2/5 [3pts shots] and 4/4 [throw]) the Warriors have achieved a historic feat in terms of address (65%) to end the series of 24 unbeaten games of Evan Fornier (4pts in 9min) and co in their room.
A best firework of shot from behind the arc in the regular season, Stephen Curry has compiled 30pts and 13 assists to allow Golden State to overwhelm the Nuggets. The Warrios recover at the same time the field advantage.
In other matches of the night Carmelo Anthony (34pts) and the New York Knicks lead their series 2-0 at the expense of the Boston Celtics after their 87-71 victory. Faultless journey also for the Miami Heat. With Dwyane Wade 21 pts, King James 19 units and Chris Bosh 10pts, the NBA champion dominated Milwaukee 98-86.