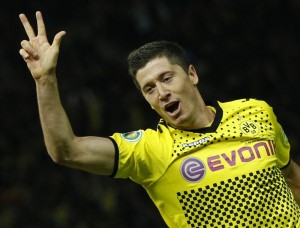 4 goals to 1! If Bayern gave a correction last night to Barcelona in the semifinals of the Champions League 4-0 (review the goals), another German club, Borrussia Dortmund makes a demonstration against another Spanish club, Real Madrid.
If the score was a 1-1 draw at halftime, the Germans' goal by R. Lewandowski (8th) .For Real: Cristiano Ronaldo (43th) – the second half time gave rise to a German festival signed R. Lewandowski!
Jose Mourinho said yesterday to be very sure of the qualification of his team in the final …
He scored three more goals in the 50th, 55th and 67th minute!
The Germans are really the kings of Europe this year! Are we headed to a final Bayern Munich-Borrusia Dortmund?
Spanish clubs will have difficulty to reverse the situation …
Here are the five goals of the match
[youtube]http://youtu.be/UfhQEaGw3GM[/youtube]
[youtube]http://youtu.be/HLL51MHeQR0[/youtube]