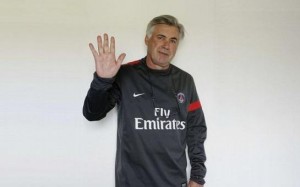 Why has Carlo Ancelotti decided to leave the Parc des Princes? According to Le Parisien "Carlo Ancelotti's departure for Real Madrid, has nothing to do with hasard. This is a maturely considered decision. "
While the technical staff wants to keep him, as stated by the PSG sporting director, Leonardo "We want him to stay. But he still has a year contract and it will be up to him to decide his future at PSG, "the departure of the technician is only a matter of hours.
The Italian wants to make it official after the title this weekend at the end of perhaps the victory of Paris Saint-Germain against Evian (16th) in the 34th day of League 1.
Carlo Ancelotti would have responded to the Madrid president probably compared the two clubs over their value and their experience on the European stage. We cannot understand the decision of the coach after a highly acquired title in a suffocating atmosphere with players like Zlatan Ibrahimovic, David Beckham and also relations with Blaise Matuidi, and also especially the sporting ideal goal of the club that spends a lot of the Qataris money for attraction the best possible in order to be more efficient in Europe.
Mixed relationship with the Afros of the group
The technician had always praised the Franco-Angolan Blaise Matuidi "Matuidi was fantastic. It is not a secret; he is good all the time. He is actually one of the best midfielders in Europe. "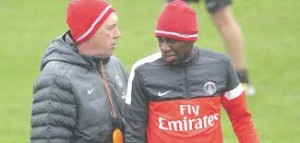 However, the departure of the technician might sound like a release for some African players who do not feel comfortable with the technician. The case of Mamadou Sakho. The Franco-Senegalese holder in the team of France has been blocked due to a tough competition in the defense with the Brazilians Thiago, Sylva and Alex. The Blues defender has only played 23 games of which 21 this season as holder.
The Ivorian, Tiene Koné who also hardly plays a Cup match in France could also think of seizing his chance in case of a departure of Carlo Ancelotti. Also kicked off the pitch, Zoumana Camara may also have an ambition with the new boss of Paris.