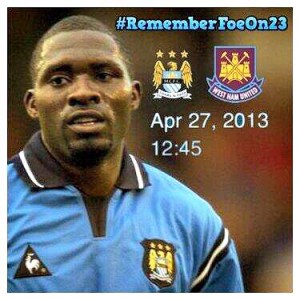 Tomorrow Saturday, April 27, a tribute is reserved for the former Cameroon international Marc Vivien Foe during the Premier League match between West Ham and Manchester City. Foe, who died tragically on the lawn on June 26, 2003 during the match Cameroon-Colombia in Confederations Cup, played for both clubs.
The fans of both clubs have decided to honor the memory of a much appreciated player in all the clubs where he evolved (Lens, Lyon). The mobilization has already begun on social networks especially Twitter with the hashtag #RememberFoeOn23. It is therefore possible to read messages in memory of the indomitable lion.
Saturday in the 23rd minute (number of Marc-Vivien Foe) of this match, the fans citizens and Hammers will stand up to applaud for a minute "Marco".
Also to note this year, the Price Marc-Vivien Foe Rfi/France24 rewarding the "Best African player of the year in League 1." 11 players are competing.