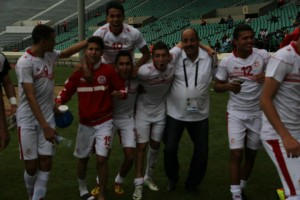 Both teams had already clashed in the group stage with a draw of 1 goal everywhere.
In the third place match played Saturday, Morocco and Tunisia have had to resort to penalty kicks to decide (11-10, 1-1 regular time).
At the end of regulation time, the Atlas Cubs and the Carthage Eaglets were separated on a score of a goal everywhere. With Tunisians who found the first flaw in this meeting. Hazem Haj Hassen takes over a poorly rejected ball by the Moroccan goal.
It took the second period of game to see the host of the 10th African Cup Under-17 restore parity.
Finally, after a marathon session of penalties which has also seen the guardians also participate, Tunisia won the bronze medal in this competition.
Côte d'Ivoire overwhelmed Nigeria in the grand final of the competition over penalty shootouts (5-4) and became the African champion of this 10th edition of the African Cup of Nations under-17 held in Morocco.