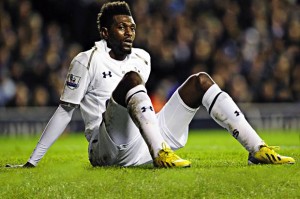 Big surprise on Saturday during the official compositions of the match Wigan-Tottenham (2-2) at the 35th day of the Premier League. Emmanuel Adebayor could be seen on the scoresheet. The Togolese who was tenured last weekend against his former club Manchester City (3-1) had shown no sign of injury when he was released in the 70th and was normally trained during the week.
all of a sudden, Africa Top Sports flied through news to discover the reasons for the absence of Adebayor. The player was therefore unavailable for the Spurs due to a blow at the knee during training sessions.
But without big gravity. The staff of Tottenham preferred not to take risks while the final sprint for the running to the Champions League is engaged.
Emmanuel Adebayor should make his return to competition next weekend against Southampton.
The former Gunner has been at the heart of a controversy two weeks ago for a missed penalty in the Europa league.