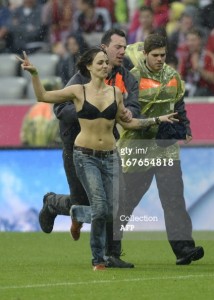 Entertainment and ambience always in the German stadiums. When players do not get involved much, it is now for the spectators to make their show.
The Bayern Munich supporters had been accustomed to hollow scores this season. Against Freiburg on Saturday, the Bavarians have registered only a goal.
Obviously not to the liking of a female supporter who entered the lawn in bra.
Finally she was mastered by the stewards.
This has been a great show then! Check out!
[youtube]http://www.youtube.com/watch?feature=player_embedded&v=lqYjMFP_LHs[/youtube]