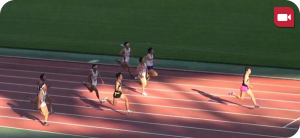 Usain Bolt has to worry about his senior world record in the 100 m. The Japanese Yoshihide Kiryu is earlier than expected. At only 17 years, he has just matched the junior world record in the 100 m, dating back over 10 years.
Kiryu has established his performance during the Mikio Oda Memorial in Hiroshima. He won the race in 01 10s, the same time as the former holder Darrel Brown.
More impressive, Kiryu established this chrono in his series at this tournament. In the final, he realized a time of 03 10s, still easily.
In last December, he got noticed with a time of 10s 19 in the 100 m at only 16 years.
Already the new Bolt?
See his race here:
[youtube]http://youtu.be/Iy-BuDc1_wo[/youtube]