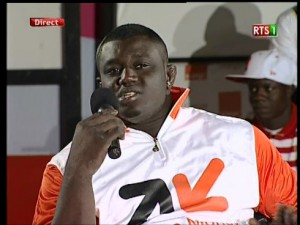 FIGHTING WITH STRIKING …. After a month in the United States to prepare for his fight against Tapha Tine, Balla Gaye II returned to Senegal on Sunday
As a prelude to the battle of June 8 against Tapha Tine the giant and leader of the team Baol Balla Gaye II, the new king of Senegalese arenas who was in preparation since March 20 in the United States, returned to Senegal on Sunday .
It was around 7.30 a.m GMT) the Senegalese wrestler walked on the tarmac of the airport Leopold Senghor in Dakar.
In the United States (specifically New York) where he stayed for a few years to prepare his fights, the current head of the Senegalese wrestling, stayed there one month and one week.
Assuming it was clear "this fight is important to me, so I go to the U.S. to get my strength and back."
A response to his critics who said after the two face to face with his opponent, "he was very short of weight that could allow him to overcome Tapha Tine who showed sparkling form."
Also, unlike when he left on Sunday, the Wrestler of the wrestling School Balla Gaye and son of former wrestler Double Less "appeared with a surplus of muscle mass"
A return to Senegal that he had announced a few days ago and that he put on the fact that "his younger brother Adama Sakho, alias Sa Thiès who descends into the arena on May 1, 2013 and who will face Malick Niang one of the protected of Yekini, will need him "
This is despite the prohibitions of the National Management Committee (NMC) of wrestling which in its 2013 regulation governing the Senegalese arena "prohibits to any wrestler who does not share the same team to another one to get off in the enclosure for any support" .
This is to prevent complications related to the recurrent violence in the Senegalese arena.
"Whatever the sanctions against me, I will come to support my brother," he protested.
Now, the question remains whether he will override the rules of CNG?
In any case, his return as he had announced seems to let us believe that Balla Gaye II "will do what he said."
Concretely on its preparation in the United States, Balla Gaye without being too talkative will say "I am well prepared."
Promising to revert lengthwise and wide to this stay to the country of Uncle Sam
As for his opponent Tapha Tine who "is almost barricaded" to avoid mystical missiles of his opponent, he preferred to stay in Senegal in the hands of his coaches, rather than "to travel".
The fight that appears to be the top of the league this season is scheduled on June 8, 2013 at Demba Diop stadium.
To remind that it will cost a trifle of nearly 400 million FCFA between stamps and organizational expenses.