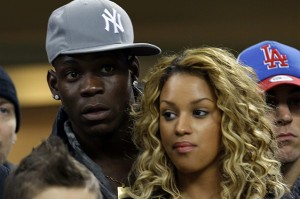 Another statement that will make noise. Marca published Sunday on his website a comment of Mario Balotelli on the ability of Real Madrid to pull up three goals against Dortmund Tuesday to qualify for the final of the Champions League.
And the Italian striker of Ghanaian origin of AC Milan found nothing better than to put his beautiful girlfriend Fanny Neguesha in the balance. "If Real Madrid pulls up his goals against Borussia Dortmund and qualified for the final of the Champions League, I will let my girlfriend sleep among all the players," said have fantastic player. Not very classy for the beautiful blonde!
The question is whether Super Mario will keep his word if the Merengues make the miracle. Because his girlfriend will motivate!
Real Madrid was humiliated in the first leg by a Lewandoswki of great days.