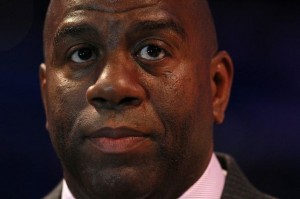 After a regular season in which it took the last day to be qualified for the playoffs, the Lakers left the competition without glory, eliminated by the San Antonio Spurs.
The Legend franchise in California, Magic Johnson did not like this output by the back door. And above all, the expulsion of Dwight Howard in Game 4. "Dwight Howard, it was a big mistake. Your teammates and fans were counting on you ", said the boss of the Showtime during the expulsion of Dwight Howard.
In order to better convey his message, the former leader of the Angelinos hammers it on Twitter: "Dwight, I've ever been swept but I've never dropped my team and make myself expelled from the game. Dwight, with a team already devastated, you could not get out  for six fouls. Having you on the ground was the only chance for the Lakers. "
And for Magic to conclude his spear towards of the franchise vintage 2012-2013 "Laker Nation:  I am glad that this season is over. With the talent on this team, this could well be one of the worst seasons in the history of the Lakers. "An analysis that will certainly share Watrthy James (former Lakers player) who at his time was harder on the game produced by the Lakers.