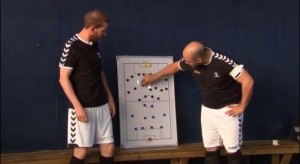 The Norwegians obviously have a lot of humor. Here is a friendly match between the professionals of Valerenga (first division club) and fans of Golden Goal. The detail is that the fans were 22 on the lawn all at the same time.
The fans have well-crafted their tactics, is bearing witness this image in the locker room. Despite this, Valerenga won 4-1 with two guards present in the goal of Golden Goal.
The amount is not worth the quality, will you say!
Here is how this football game looks like, 22 against 11.
[youtube]http://youtu.be/mUFxukhNaU4[/youtube]