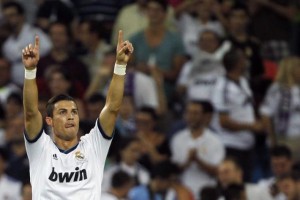 Big game this Tuesday at Santiago Bernabeu between Real Madrid and Borussia Dortmund. The qualified team will have a place in the final of the Champions League. Except that things are not so simple for men of the White House.
Hustled and humiliated in the first leg 4-1 (review goals), Jose Mourinho and his men are condemned to feat. Almost a miracle. Except that Madrilenian are familiar with this kind of situation. In 1975, the team had managed to climb a handicap of a 1-4 defeat in the first leg. It was against Derby County in C1. In the second leg match, they won 5-1 to qualify.
Tonight, the equation will be the same. Score at least three times without taking one. And if one believes Jose Mourinho, it is possible, as he said Monday at a press conference.
Ronaldo, the number one asset in turmoil!
To achieve the feat, Real Madrid knows that he can count on his Goleador since the three past seasons. Cristiano Ronaldo, the handyman should be present. But since one week, the Portuguese doesn't rest. After an injury contracted in the first leg match, he had to go through the nursery box and missed the Madrilenian clash Saturday against Atletico.
But it is not in the sporting level that the man was tormented but on a personal level. Sunday, The Sun published the revelations of a Brazilian bimbo who entrusted having had sex with the former Manchester United, only 48 hours before going to the Signal Iduna Park. Real has mastered his communication on this subject leaving the player to defend himself.
What he was able to do very well through his Twitter account. Suddenly, the topic did not raise as many waves as expected. Now he knows what he has to do: qualify the Real Madrid once again and enter in the Casablanca club legend. Especially his teammates swear by his name, starting with the German Sami Khedira