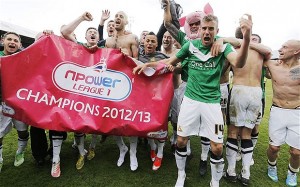 Doncaster was against Brentford in what was the last game of the season.
With a very important issue. The winning team goes in the upper division.
Still on the score of 0-0 in stoppage time, the referee granted a penalty to Brentford. But Marcello Trotta spots his shot on the cross bar. Doncaster then extricates his camp and engages in a speed counterattack.
Billy Paynter tumbles down on the right side and serves Coppinger in end of the race. The latter does not miss the target. Overweening delight of the audience and their players. Doncaster is champion of Npower League One
[youtube]http://www.youtube.com/watch?v=kGAK0VVX4AE&feature=player_detailpage[/youtube]