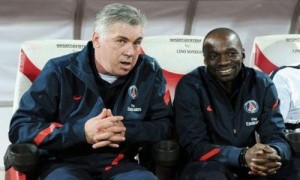 The Real plays Tuesday a matchthat everyone is waiting for! Is the Real Madrid capable of scoring the three needed goals against Borussia Dortmund Germans without taking one in the semifinals of the Champions League? Jose Mourinho believes in that as Africa Top Sports.com has just reported.
And yet, it will probably be his last game on the bench for Real Madrid in Champions League. When he announced his departure himself a few days ago, Carlo Ancelotti is greatly close to the Spanish club. He even completed his contract. Everything would be ready for the formalization! While he swears that he wants to stay at PSG …
As I've already said in a previous post, PSG and Qatar take a big risk in letting him go. But the great Italian coach did not probably want to continue to Paris …
Florentino Perez, president of the Madrilenian club, would have been much nicer to him …
PSG is therefore looking for a new coach. Arsene Wenger has denied flabbily being interested in the position … Jose Mourinho on his part, should go back to Chelsea as my mate Didier Drogba said it to complete the work started.
I'm not sure that all clubs are winners in this funny mercato! Will it also be livened for the players? Why such madness on the part of coaches.
Football is in crisis too … And the coaches were always the first scapegoats …
Notice to mercenaries!