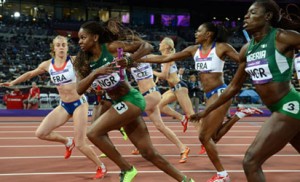 The Athletics Federation of Nigeria (AFN) Sunday suspended three athletes from all its activities, including the Golden Leagues, for the next three years. The three athletes are : Saheed Osanyande, Afeez Imama and Lekan Soetan.
The federation said the three had instigated a boycott of the 2nd Golden League scheduled for the University of  Benin Sports Complex at the weekend.
The Technical Director of AFN, Navy Commodore Omatseye Nesiama, said  in Lagos that the athletes' behaviour could be described as `unruly'.
Nesiama noted that the suspension was invoked because they had also demanded that AFN review downwards the standard of the competition, as well as extend award of prizes to the top eight in each Golden League event.
"This is totally unacceptable to the federation,'' he said.
Nesiama said that based on the current development, the board would channel available funds into its developmental programmes toward promoting the youths and the juniors.
"Rather than spend money on unruly athletes, we will develop our youths and junior athletes because they have a brighter future.I will prefer that we spend money on our developmental programmes, rather than spend money on athletes that want to remain as local champions,'' Nesiama further observed.
He said that the federation would not condone acts of indiscipline, insisting that no athlete was forced to participate in the Golden League.
"The demand is an indication that they are not serious and probably do not have the national interest at heart but just personal interest.We have chosen to do something different from what we were doing in the past, in order to get better results," he said.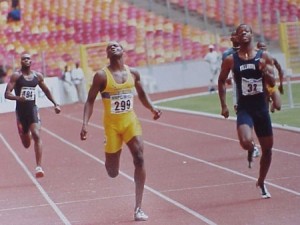 The Technical Director said indiscipline and unruly behaviour which was noticed negates the AFN Code of Conduct instituted in 2010, under his watch as chairman, security and discipline committee.
The Technical Director noted that different associations and clubs had been informed about the guideline of using performance-based result, saying he was surprised that such an incident could occur.
Meanwhile, Nigeria's women 4x100m and 4×400 relay teams to the Penn Relays in Philadelphia, USA, at the weekend placed fourth and fifth respectively.
The 400m relay team clocked 43.52secs while the 1600m relay team finished fifth in 3.28.00secs. Regina George ran Nigeria's fastest split of 49.55 in the quarter mile relay. Team USA and Jamaica dominated the events.