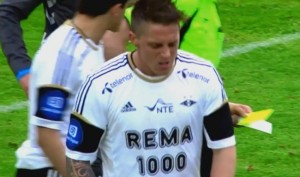 The self-control, it is not just a word. This player has obviously for long pondered his frustration in this game.
While there is a fault on him, so a very clear penalty, the referee did not whistle.
Worse, the man in black gives him a second yellow card synonymous of expulsion against Nicki Bille Nielsen, player of Rosenborg in Norway.
You can imagine his anger! So he violently ripped his shirt …
Fortunately he has poured his anger on his jersey.
[youtube]http://www.dailymotion.com/video/xzfgev_furieux-il-arrache-son-maillot_sport[/youtube]