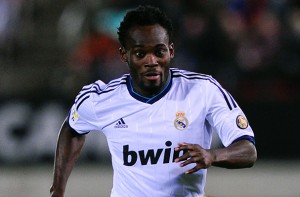 The big poster on Tuesday at the Santiago Bernabeu will surely retain the attention of the black continent. And because a player represents Africa. Ghana's Michael Essien back from injury is in the group. And seeing the configuration of the meeting, no doubt that the former Blue of Chelsea will be in the eleven standards.
This to adorn some defensive deficiencies of Real Madrid remarked in the first leg. With his absence and that of Arbeloa, Mourinho had to reconstruct his defense at the Signal Iduna Park, with Ramos at the right side and Pepe and Varane in the axis. Without much success. The return of the "Bison" should provide a new opportunity to the Portuguese coach. But beware; a yellow card may deprive him of the final in case of achievement.
Absent from injury this weekend against Atletico Madrid, Cristiano Ronaldo makes his return. Karim Benzema, holder Saturday should rejoin the bench to the delight of Gonzalo Higuain.
No change to Dortmund
After having shown up this weekend in the league, Jurgen Klopp should align the same team as that of the first leg. Hummels author of a mistake that almost cost his dear to his team will be associated with Santana. The midfield always entrusted to Gundogan with Götze and Reus on the sides. Finally, the man who scares all Madrid should absolutely respond to this crucial meeting. Substitute and silent this weekend, Lewandowski, author of a quadrupled in the first leg, should be fresh against the Merengues.
Probable compositions
Real Madrid: Diego Lopez-Essien, Varane, Pepe, Coentrao, Alonso, Khedira, Di Maria, Ozil, Ronaldo, Higuain
Borussia Dortmund: Weidenfeller, Piszczek, Subotic, Hummels, Schmelzer, Gundogan, Reus-Bender, Götze, Blaszczykowski-Lewandowski