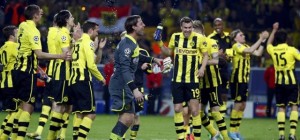 Real Madrid has not got there. The miracle in which Jose Mourinho wholehearted believed did not happen.
Blame it on a first half where the Spaniards have wasted more opportunities.
It is in the second half time that things change tended to change. Especially in the last 10 minutes.
Benzema having entered the game lately opened the scoring in the 82nd, a few minutes later got imitated by Sergio Ramos.
But that third goal which should rescue the men of Jose Mourinho failed to be achieved. Madrid wins 2-0.
But it was Dortmund which therefore qualified for the final of the Champions League thanks to its fine win in the first leg 4-1.