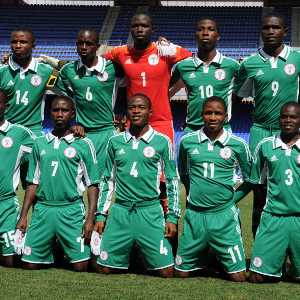 Golden Eaglets arrived in Nigeria from Morocco today after it failed to return to the country on Tuesday morning as earlier planned.
The team, which finished second at the CAN U-17 Championship in Casablanca on Saturday, did not make the flight to Nigeria on Tuesday morning in spite of earlier reports that it would.
He said that Eaglets qualifying for the final was enough reason for it to be celebrated saying that all the teams that qualified for the tournament wanted to win the trophy.
According to him,  Eaglets did not win the title eventually, but noted that no one would want to loose the final of any tournament
Ugbade said it was saddened that Eaglets unbeatable run up was snapped by Cote d' Ivoire.
Ndugba stressed that Coach Manu Garba "is the man to continue with the team" on the premise that he has done wonderfully well.
Eaglets unbeaten run was snapped by Cote d' Ivoire 1-0 during their group match, even winning the tournament 5-4 on penalties after both teams played 1-1 in regulation time.