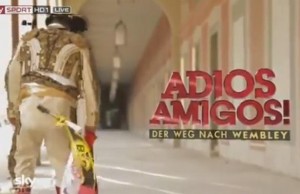 The Real Madrid did not make it last night! It has not gone away of a feat in the semifinals of the Champions League against Borussia Dortmund, but he missed a goal – Review the game and the two goals of Real including that of Benzema
Tonight, Bayern Munich traveled to Barcelona with four-goal lead, always for the second leg match of the semifinals of the Champions League. And it will be hard for Messi and his teammates to achieve a feat that would be part of the football legend.
Suddenly, the German TV via Sky TV mocking nicely the Spaniards…. "Adios Amigos"
Will this be enough to wake the Catalans?
In the meantime here is the video…
[youtube]http://youtu.be/lnVRqFVaB0U[/youtube]