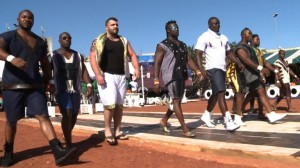 They were 12 vying for the final of the first edition of "The Strongest Man of Ivory Coast." These forces of nature have competed in six proof sheets at the Espace SOCOCE, at Deux Plateaux (Abidjan), Saturday.
The walk of the Trojans (move two loads of 100 kg on 12 m maximum and then move a 415 kg tire as far as possible), the Colossus of Rhodes (lifting a 600kg charette which contains 12 sitting people), the axe of Vulcan, the rope of Macis, the thighs of Jupiter and the Atlas Stones (set of casks balls ranging from 70 to 110 kg) were then the six tests.
And in this game of "strong-arm man" it is Patrick Okonkwo Adebayor alias Shaka Zulu, with 130 points, who won as the Strongest Man in Ivory Coast.
[youtube]http://youtu.be/QtcgxAFUKQ8[/youtube]