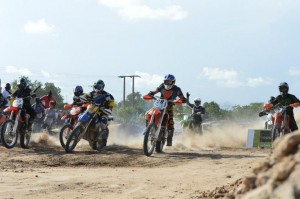 The will was not enough for the Togolese who participated in the International Motocross of Ouaga. Despite the preparations up to the event, the Togolese have missed the podium, overpassed by the Burkinabe at the end of a great race.
In terms of an assessment for the Togolese participation, Evelyn Boucly champion at the end of the tournament on March 31 held in Lome, came at the fourth position, Jonathan Bischoffe took the 6th place and finally André Napoleoni was forced to retire due to mechanical failure. Saving the honor for having outperformed most Ivorians, the Togolese returned Thursday in Lome.
In total, seven Togolese riders attended the competition qualified of being super by the Togolese group. Here are the 7 riders of Togo: Michel Nanga, Jonathan Bischoffe André Napoleoni, Antoine Napoleoni, Aymeric Miens and Evelyn Boucly
The next appointment will be held in Côte d'Ivoire.