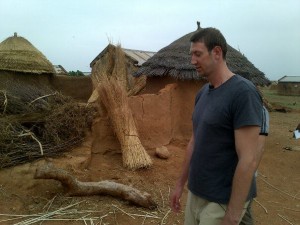 Born on May 1 1983, the swimmer Alain Bernard celebrated its 30th anniversary in northern Togo, more than 550 km from the capital Lomé.
Arrived Tuesday, according to Apanews, the Olympic champion made a visit inside the country as part of a program of access to water and the sanitation in schools in Togo. This program was initiated by the local office of the United Nations Fund for Children (UNICEF). Upon his arrival, the French athlete was happy: "I am very happy to be here in Togo to see the achievements supported by the funds raised through the Night of Water"
Alain Bernard has already visited a unit of care device located in the town of Koumondè, with sanitation infrastructure built thanks to the Night of the water.
According to figures from UNICEF, 10,144 students and 90 teachers in 28 schools have benefited from this program in 2012 and 3900 people from the surrounding community also benefit from these facilities.
Alain Bernard is the first French Olympic champion in the 100 meters freestyle, a title obtained during the Beijing Olympic Games and also Olympic champion of 4 × 100 relay at the 2012 Olympics in London to make this visit.
Pictures : Noël Tadegnon