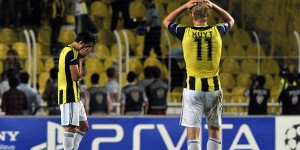 It is Benfica which will face Chelsea in the final of the Europa League on May 15 in Amsterdam. The Portuguese club has qualified after a 3-1 victory Thursday at Stadio de la Luz.
Dominated in the first leg 1-0, Benfica quickly took the lead by Gaitan. But a penalty converted by Kuyt failed to derail the feat hoped. Except that Oscar Cardozo did not see it that way. The Paraguayan gives the advantage to Benfica before the break. And he continues doing the same after the break. Score after two games 3-2 for Benfica.
At the side of Fenerbahce, the Senegalese Moussa tenured at the forefront of the Turkish club attack remained helpless. Despite all his races, he was often weaned of balloons. The absence of the Cameroonian Achille Webo suspended has not really helped the club. The Nigerian Joseph Yobo has been replaced in the second half. He will not realize the long-awaited triplet this season with his club.
As for Chelsea got rid of FC Bâle to reach the finals with a particular goal of the Nigerian Moses.