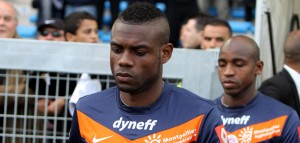 Henri Bedimo is more than ever on the move. Target of criticism by his president Louis Nicollin, Cameroon probably makes these last games with Montpellier.
The President of the Héraultais club criticizes the Indomitable Lions defender not to get involved in the life of the group.
Bedimo, who was great last season with the MHSC, is in fall of mode. Former Lens player should not be in the Hérault next season. He is the target of several clubs including OM.
Before leaving Montpellier in the summer transfer window, the Cameroonian will be on the lawn of Mosson stadium to receive Brest in the 35th day of League 1 on Saturday. The club of Louis Nicollin lived a serrated season. Montpellier advanced to the 8th place with four games remaining. The MHSC has nothing to play again. Before the receipt of the Bretons, Bedimo spoke to Midi Libre.
"I'm worried about this group because there is talent and good humor. In my career, I've played in teams where there were dickhead. There it is a really great group. He does not deserve that. "
"The end of the season will be long. It's a shame to end up like that. It is a season that should be that of the consecration of the title, with happiness and we are scuttling ourselves with bullshits. But some people wanted the maintenance, we got it. "