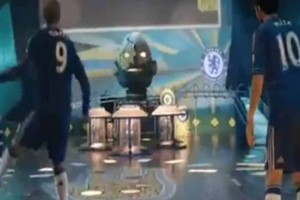 Sometimes, players need to have fun. Chelsea players Mata, Luiz, and Mikel show their skills in a giant game of pinball for new advertisement.
Complete with futuristic silver ball and human-sized ramps, the Stamford bridge aces proved they could translate their on-pitch skills inside a huge pinball machine.
The lads were all taking part in a new advertisement for Blues sponsor Samsung.
But there's something not quite right about the whole thing — Torres appears to have gained pinpoint accuracy.
Here the video link :
http://www.youtube.com/watch?v=Sgk0uWCyHws