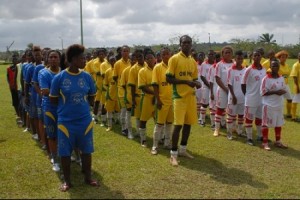 The feminine football will be honored on May 10 in Ivory Coast.
The four best teams in the country will compete on that date the semi-finals of the Confederation Cup. Juventus of Yopougon will face Onze Soeurs of Gagnoa while Omness of Dabou and Lahou Essor Football Club will fight to get the ticket to the final.
According to the website levuvuzela.net, Berthe Adou, the president of the Women's Football Committee, has scheduled a caravan throughout the streets of Treichville in preparation of the meetings.
This caravan is to strengthen the promotion of women's football. Thus the athletes will held a parade from the headquarters of the FIF at Parc des Sports. The walking will be supported by a festive atmosphere delivered by fanfare, says the site.
10 teams gathered in a single group, will begin the 2013 season of women's football, on 17 May. Juventus of Yopougon for now remains the reigning champion.