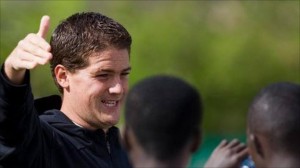 The Sierra Leone Football Association (SLFA) has claimed that Irishman Jonathan Mckinstry has accepted the task to take over Leone Stars on a temporary basis.
The 27-year old is to be in charge of Leone Stars remaining matches in the 2014 World Cup qualifiers against Tunisia, Cape Verde and Equatorial Guinea and he will be considered for the job on a permanent basis if he does well.
His first game in charge will be against Tunisia at home in Freetown in the first weekend of June, followed by an away fixture against Cape Verde in Praia the following weekend.
Sorie Ibrahim Sesay, Public Relations Officer of the SLFA has claimed that they've had meetings with Coach Mckinstry who he said, has accepted their terms and conditions and has signed a contract.
He said : "We had fruitful meetings with Coach Mckinstry and we've reached agreements on his terms and conditions."
"Under the terms and conditions, Coach Mckinstry like his predecessor Lars Olof Mattsson will be paid match by match basis and he's to work with local coaches John Keister as his assistant and Tamba Moses as his goalkeeper coach," Sesay added.
He concluded : "At Coach Mckinstry's request, we've given him the permission to bring over a coach of his choice to serve as his technical assistant, but at his own expense. We'll only be responsible to provide air ticket to bring the coach over to Freetown."
Sesay however didn't comment on the amount the man from Northern Ireland will be paid per game.
Coach Mckinstry's predecessor Lars Olof Mattsson was initially receiving $10,000 [ten thousand dollars] which was later increased to $12,000 [twelve-thousand dollars] after he included two of his fellow countrymen Lennart Andersson and Johnny Murray in his back room staff.
The young Irishman – who has no previous coaching experience in Africa, was named as the Leone Stars coach on April 10 to the surprise of many football enthusiasts in Sierra Leone.
Although Coach Mckinstry is not an established coach, he has been working at the Craig Bellamy Foundation which runs a football academy out of Freetown.
He holds a UEFA 'A' coaching licence and has worked for the Irish FA, English Premier League club Newcastle United and the Major League Soccer team New York Red Bulls.
Modou Lamin Beyai