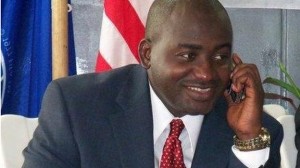 Liberia Football Association president Musa Bility has been banned from all football activity just months after launching a rare legal challenge against African football's powerful leader Issa Hayatou.
The Confederation of African Football announced a six month ban for Bility for the offence of using CAF confidential documents without the organization's permission.
The documents were executive committee minutes but no further details were provided by CAF of the decision by its disciplinary committee.
But Bility was at the forefront of an unsuccessful bid to overturn a change to the CAF election rules that ensured the long-serving Hayatou recently won another term as CAF president.
Last September, a special convened CAF Congress passed new election rules that allow only the organization's executive committee members with full voting rights to stand for the presidency, a thinly veiled effort to eliminate Hayatou's rival Jacques Anouma from March's election.
Bility led a legal challenge to those changes but had his case rejected by the Swiss-based Court for Arbitration in Sport.
A fine of $10, 000 [ten thousand dollars] fine was also imposed on the Liberia Football Association, a CAF statement said.