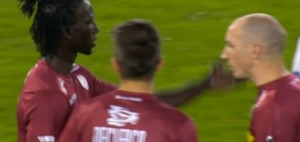 Friday was the seventh day of the play-offs of the Belgian championship.
Zulte Wagerem of Mbaye Leye received Genk. Upon arrival, a heavy defeat for Zulte 0-4. But the game ended in fish tail for the players of the same team. The Senegalese yet in high spirits this season completely tripped.
Mbaye Leye who had missed a penalty for Zulte did not appreciate the remonstrance of his teammate Franck Berrier. He gave him a slap before the intervention of their teammates. After the match, Leye says he will no longer play the next season with Berrier.
This Saturday, the Senegalese striker apologized for his actions after discussions between the two men and the Zulte coach. "I apologize to the fans for this unacceptable behavior during the incident with Franck. I would never have reacted that way. I already apologized to the whole group, the technical staff and Franck. The matter was raised and processed internally. Now it is closed. The most important are the last three games that should allow us to complete an outstanding season without spoiling. I can assure you that it will not be the case ", can be read in a statement.
This action should not be much helpful to Leye in the race to obtain the "Shoe of ebony", rewarding the best African player in Belgium.