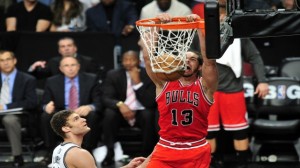 Uncertain at the start of the playoffs due to plantar fasciitis, Joakim Noah made more than an act of presence in the group of Tom Thibodeau in the series that pitted the Bulls to the Nets.
After a little game in the Game1, the backbone of Chicago has mounted over the meeting to conclude the series with a huge game last night at the Barclays Center.
As tenfold by the last minutes absences of Luol Deng and Kirk Hinrich, the inside of All-Star, puts his warrior costume and blackens his stat sheet with 24 points (to 12/17 on penalties), 14, 6 blocks and two assists, and allows the franchise in Illinois to qualify for the semifinals of conference taming Brooklyn in its den, 93-99. Chicago won the series 4 games to 3.
"(…) Tonight Joakim was just amazing, he made efforts to the four corners of the court, says his coach Thibodeau. We asked him to be everywhere, to be the leader of our defense, and he did it very well. When it is at 100%, he can make games that few are able to do ". It is the first time in its history that Chicago will get its qualification for the semi-finals of the playoffs off its base.
In addition Deron Williams (24 points) is admiring "He is a warrior who fights against injuries, and tonight we had no response to him. "
In the semi-final of the Eastern Conference, Chicago with meet on Monday the Heat of a LeBron James who is eager for the battle. A series that could know the start of Deng, released from hospital.