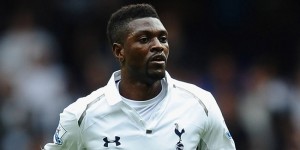 This is the biggest transfer info of the day. The British newspaper Sunday People announced that Emmanuel Adebayor is the priority of Monaco for the next season. The Togolese announced increasingly on departure from Tottenham this summer could return to the Rock.
The Spurs would not be against the departure of the player. Andre Villas-Boas was not satisfied with his performance in contrast to his season on loan last year (17 goals in 33 games).
Tracks such as the Brazilian Damiao or the French Loic Remy are often cited to replace him. The departure of Adebayor is not a problem except that his salary of 100,000 pounds a week is not for everyone. But the new rich of France believe it can pay his fees.
Adebayor has scored only three times in 21 games this season. It was also heckled during the season by fans especially after missing a penalty in the quarter-finals of the Europa League against FC Basel.
The Hawks captain knows the principality of having played between 2003 and 2006.