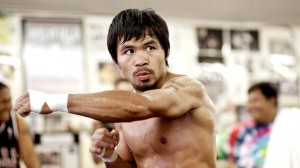 Manny Pacquiao will be back in the ring on November 24, in Macau. The Filipino made his comeback after his defeat by KO in December against Juan Manuel Marquez. He will face the American, Brandon Rios.
"Everything is OK for this fight," said the AFP Michael Koncz, Pacquiao's agent. "This will be something great, it's something that has never been done in Asia and Asia is the new destination for the organization of a large boxing meeting," he said. This will be the first fight of the Filipino boxer outside the United States since 2006.
Rios has a current record of 31 wins in 33 fights (one loss), including 23 by KO.
"People know what Rios can bring, said promoter Pacquiao, Bob Arum, in an interview with ESPN. They want to have a real fight and they will have it with the adversary that we have chosen. "
 
"Some like to see performance art, such as that Floyd Mayweather Fils against Robert Guerrero on Saturday and others prefer fights where both fighters want to send to the mat. In my case, I like to see two men fighting a real war and throwing hitting punches. It should be this kind of confrontation. "
Pacquiao is still recovering from his monstrous defeat by KO. Aged 34, the "Pac Man" remains on two consecutive losses. He who was once touted as the best boxer of his generation, star adored in his country holds no world title and displays his record of 54 wins, including 38 before the limit, five defeats and four draws.