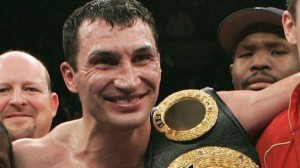 Wladimir Klitschko continues to dominate among heavyweights. The Ukrainian boxer has retained his title of WBA, the IBF and WBO. He knocked his old sparring partner, the Italian Francesco Pianeta in the sixth round. The world champion won thus the umpteenth defense of his titles.
"I have to congratulate my opponent first, who still beat cancer, said the winner. He learned a lot tonight and may be world champion one day. "
At 37, the younger Klitschko signed the 60th win of his career, the 52th before the deadline. He knows only three defeats, the last dating back to April 10, 2004 against the American Lamint Brewster.
The page Pianeta turned, Klitschko can prepare for his next fight and the Ukrainian boxer will defend his WBO belts, WBA and IBF against the Russian boxer Alexander Povetkin. The fight is planned for August 31 at Moscow.