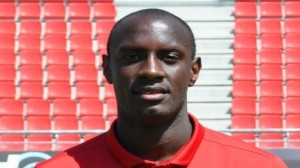 It is the official website of the French club that revealed the information on Tuesday.
Julio Tavares re-enlisted for two more seasons with Dijon. The Cape Verdean striker is now linked to the Burgundy club until June 2016.
"Since his arrival to DFCO, Julio confirmed all expectations we had placed in him. This extension is the result of a joint desire to pursue the adventure", said Olivier Delcourt, president of DFCO on the club website.
Tavares is the best scorer of Dijon this season with 10 goals. He arrived at the club in 2012. This year, he participated in the epic of Cape Verde Afcon with a historic qualification for the quarter-final of the competition.