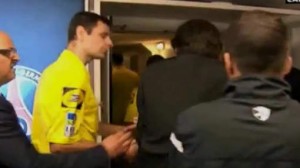 Will Leonardo be suspended for a year? Will PSG be denied the title as a result of the assault on the referee!
The Brazilian sporting director swear it, he did not hit the man in yellow yesterday during the match PSG-Valenciennes.
Africa Top Sports.com just found the video. To each one to judge now! There is still a nudge … " I ask you to look at the pictures", has entrusted the Brazilian leader Monday at Paris. All images, not just those of Canal +, which is a little weird, and watch in slow motion. I have to talk to the referee. At that time, the delegate blocks me and pushes me to the referee. So, I hit the referee with my back. It happened exactly like that. I have not pushed the referee. Moreover, the referee does not feel attacked. He knows what happened. "
In contrast, the sporting director of PSG, as his coach, Carlo Ancelotti, attacked very strongly Alexander Castro, the match referee of PSG-Valenciennes (1-1) – see goals, which excluded Sundays Thiago Silva in the 43rd minute – review the video.
"Why red? This is unacceptable. I do not know why he referees such an important match. He is far from the action, he lets himself be carried away by emotion, he is stretched, and he loses control. I'm pissed, this is the minimum. Everyone has seen it, it is beyond any logic. It is normal that it sucks. We have already four suspended and today another … If we continue, we will have suspended and there will be no more team. Today is a quiet game and we finish with seven yellow and one red. And the day it is stretched, what do we do?"
Still, the PSG can lose a lot. The Brazilian risks a year suspension! – He who wanted to go … – And points can be picked up to PSG that is going to Lyon before receiving Brest …
To be continued …
Here are the pictures…
[youtube]http://www.youtube.com/watch?feature=player_embedded&v=awCp2rEy6C8[/youtube]