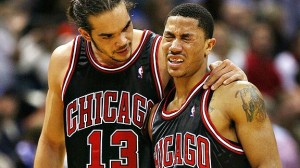 The return of a Derrick Rose is experienced as an Arles.
Also after the hold-up of the Bulls against the Heat in the first game of the series of the semi-finals, the journalists did not fail to refer to the absence of the leader MVP 2011. "Derrick is a brother. And see him living this is difficult", said Joakim Noah when they talked about his pride to win without their leader, reports BasketUSA.
And for the pivot of Chicago to pursue "(…) it's funny how people judge quickly. But they do not know what it is to lead a team, especially after you tore the cruciate ligaments. If you were torn cruciate ligaments and had to be the point guard with the expectations that surround Derrick, then you may be able to judge. "
The Bulls fans hope to see Rose again, out of the competition for a year alongside the Bulls to lead the franchise to the NBA title that escapes since the Jordan era.
Also, see his teammates reversing situations should not be easy for him: "I think he handles it so incredibly. He is hard. He does not yield. He does not let any of that affect him, either praise or people who judge him, he is the same. He is the same and I really respect that because I do not think many would be able to do so. "
Just like Derrick Rose, Tom Thibodeau demands patience to the fans of the franchise.
Rose who has resumed normal training in February still has no date set for his return.