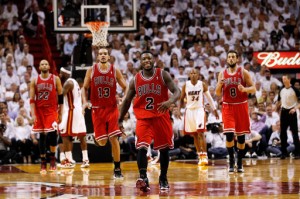 LeBron James had expressed his weariness after inflicting a sweep to Milwaukee in the first round of the playoffs.
The MVP of the regular season and his Heat teammates have rejoined the competition on Monday with Game 1 of their halves series against the Bulls.
The American Airlines Arena saw red. Chicago makes a perfect hold-up at the expense of Miami 86-93, spoiling suddenly the night of James (24 pts) who was playing his first match after his MVP title.
With a Nate Robinson with 27 units, best scorer of the game, the men of Tom Thibodeau were more involved in this "war." Author of this warlike expression evening of qualifying for the semis, Joakim Noah has cracked a double-double 13 points and 11 rebounds.
"We have the mentality of warriors. We have a group that is very hungry, "said at the end of the match, the French pivot also issued 4 assists. However, Noah remains lucid "It's just a game, we must still win three," he says.
Next outing between these two franchises East on Friday for a "big game" warns the interior of the Bulls. We should be able to record the return of Luol Deng, who had to skip this Game1 in the workforce of Chicago to counter the Heat the reaction which views a doubled.