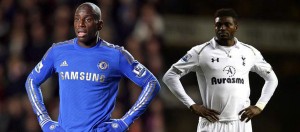 Big game in the Premier League on Wednesday. Chelsea 3rd faces Tottenham 5th for a place in the Champions League. Even if there are two places of difference between the two teams in the standings, a win can correct positions. The Blues with only three points ahead of the Spurs. The comment on the Afros of the game.
Chelsea
It is the team that has the most Africans. They are at least 3. John Obi Mikel is the oldest. The midfielder chained matches since the beginning of the season. Having rested against Manchester United this weekend, the Nigerian should recover his place in the inter-play unless Rafael Benitez decides to rebuild Frank Lampard in great shape at the end of the season.
Victor Moses also made his hole in Chelsea. Rather effective in the Europa league, the Nigerian striker argument few bits of games in championships, helmed by the pair Ba-Torres. But his great performance in the European Cup earned him some tenure at the end of the season.
If he has lost his legendary efficiency at his arrival from Newcastle, Demba Ba also weighs much on the game. Very good both at head and in the physical duel, he should cause some worries in the defense of Tottenham. The Senegalese wants to win the duel between African strikers which will oppose him to the Togolese Emmanuel Adebayor.
Tottenham
With his experience, Benoit Assou-Ekotto continues to provide in the left lane of the Spurs. His complementary with Verthongen and Dawson makes him one of the side still popular in Europe. The Cameroonian should contain the fury of Oscar tonight.
Announced on departure, Emmanuel Adebayor knows he is not at his best this season. Especially for accounting (3 goals in 22 games). However, his contribution to the game was often praised by his manager. The Togolese loves tough games and this one is a challenge. From there to see him tonight as holder, we can still hope a little from the Togolese star.