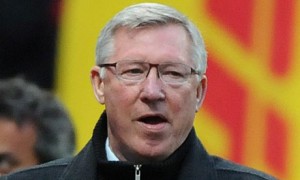 The reactions will be many after the announcement of the retirement of Sir Alex Ferguson, who was coach of Manchester United for 27 years! – View our full-file
Vincent Kompany, the Manchester City captain, "Sir Alex is simply one of the greatest managers in the history of football after these 26 years of success of all kinds, we can only pay tribute to him for all of his work … "
Romelu Lukaku: "It's a shame to see one of the greatest managers in the history of soccer getting retired. Sir Alex is a true champion. And even a legend …"
David Beckham (former Manchester United)
The impact he has with the team and the impact he has with the players and the fans was incredible – I do not think there is anyone in football who has had an impact alike.
Michael Owen (former Manchester United)
This is simply falling into the black! Manchester United without Sir Alex just does not feel right. What a great man who ended his career in this way. What a privilege to have played to be arguably the best manager the world has ever seen.
Paul Ince (former Manchester United)
I'm in shock. What he has done is incredible. You will never see someone like him again. This came as a huge shock that he will retire at the end of the season. The way he was treating me like a son and I will never forget. Yes, we've had our ups and downs, but the man was huge. Two weeks ago, however, he had told me that he planned to continue for two years. I'm in shock.
Sepp Blatter (FIFA President)
I just learned that Sir Alex Ferguson will retire at the end of the season. His achievements in the game undoubtedly qualifies him as one of the "greatest". I had the honor to reward him the 2011 Ballon d'Or …will his longevity at the top be repeated?
Cristiano Ronaldo: "Thank you for everything Boss"
Patrick Vieira: "This is the end of an era for a great ambassador, not only in the Premier League in football, but football in general. Good luck to Sir Alex, "wrote the former French international on his Twitter account.
Kevin Prince Boateng: – midfielder AC Milan: "The end of an era" "
David Cameron: Prime Minister of the United Kingdom:"what Sir Alex Ferguson has realized has been exceptional. I hope that his departure will make the life of my team a little easier"! He is a fan of Aston Villa!