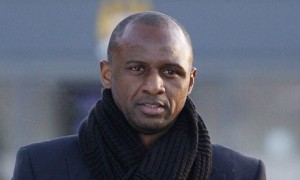 Manchester City's Football Development Executive Patrick Vieira has arrived in South Africa to announce plans of the club's tour to the country in July.
According to the club's website, two games will be played against top PSL clubs, the second taking place on Mandela Day, 18 July.
"South Africa is one of my favourite countries," said the former France captain.I spent a lot of time here during the 2010 FIFA World Cup and was thrilled when City tasked me to come over and launch the South African leg of our upcoming Tour. Mandela is one of my heroes and to be part of Mandela Day will be an honour."
Executive chairman of Matchworld, Lyndon Barends, added that "City's involvement will provide a great opportunity for South Africans to see one of the Premier League's elite, just as they did when Manchester United participated in the project last year. We are pleased that Manchester City has included South Africa in their pre-season Tour and help us promote Mandela Day," Barends told the club's official website.
Vieira also represented his country, France, 107 times and won the 1998 FIFA World Cup when he received France's highest award, the Legion d'Honneur in 1998.